MPR Partners | Maravela, Popescu & Roman assisted Nederlandse MKB in the acquisition of the IT company BusyMachines
MPR Partners | Maravela, Popescu & Roman has assisted the Dutch company Nederlandse MKB Participatiemaatschappij in the acquisition of BusyMachines B.V., a Dutch-Romanian fast-growing software developer.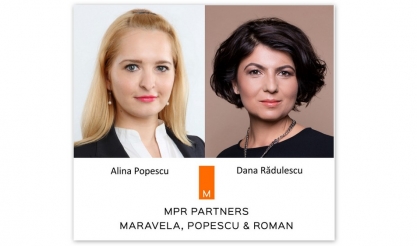 A team of 9 MPR Partners | Maravela, Popescu & Roman lawyers worked on behalf of Nederlandse MKB, in all legal aspects related to BusyMachines' Romanian subsidiary and development centre. The highly specialized M&A, technology, IT, IP, competition and data protection assistance provided included a complex due diligence report of the target, as well as advice regarding the relevant aspects on the transaction documents.
Coordinated by partners Alina Popescu and Dana Rădulescu, the team assigned to the matter equally included partner Alexandra Rîmbu and tax partner Felix Tapai as well as senior associates Roxana Neacșu, Daniel Alexie, Magda Grigore, Flavia Ștefura and Raluca Ciocârlan.
Dutch law firm De Breij was the counsel of Nederlandse MKB for all the other aspects pertaining to BusyMachines group and have led the transaction, which was completed at the end of April 2019.
Nederlandse MKB focuses on growth by offering capital and knowledge to businesses thus providing them with the opportunity to grow faster and achieve a better market position. In the coming years, the new shareholder together with its network and strategic partners, will further support the growth of BusyMachines.
BusyMachines develops innovative tailor-made software with excellent graphic design, positioning itself as a technical partner in the development of end-to-end products. The BusyMachines team consists of 50 employees, including talented developers, project managers and designers.
Further information about the team, international recognition and services of MPR Partners | Maravela, Popescu & Roman is available at http://www.mprpartners.com